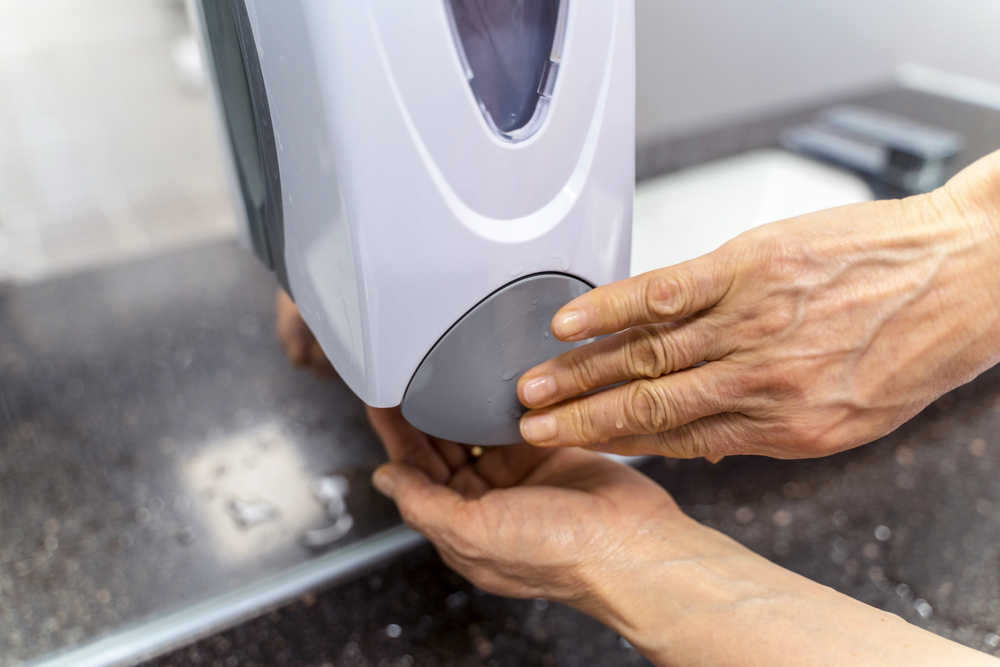 Now more than ever, it's time to think about how to best protect your employees and customers from the threat of germs. Knowing how to fight germs in the workplace, and acting upon that knowledge, can help keep your business protected.
Here are some effective measures you can take to reduce germs in your business today:
Choose High-Quality Cleaning Supplies
If your employees don't have the proper tools they need to successfully and safely sanitize your business, it can't be done. With threats like viruses, bacteria, and mold around every possible corner, inadequate cleaning supplies are a liability. For example, if your cleaning agents are weak or too diluted, there's a chance they aren't going to work.
Most disinfecting solutions need 1 to 15 minutes of "contact time" to kill pathogens effectively. If they're left with less than the recommended contact time, they're not cleaning as well as they should be. With the right combination of high-quality, effective disinfectant products and employee training, you can rest assured that your facility will be protected.
Model Coverall Service offers:
Bathroom Sanitation
– Hand Soap Anti-Bacterial
There's no replacement for high-quality hand soap. A pleasant-smelling hand soap that leaves hands fresh and comfortable is a great choice. The best way to keep the hands of employees and customers clean is through a consistent supply of quality soap. Model makes sure you don't run out.
– Hand Sanitizer (Alcohol-based and non-alcohol)
For a burst of freshness that sanitizes while improving odor, choose our foaming hand sanitizer. You can't go wrong with a sleek and stylish dispenser. Your employees and customers will thank you.
– Air Sanitizer
While air fresheners can do wonders in masking unwanted odors, they don't treat the issue or make things safer. Air sanitizers, on the other hand, not only freshen the air with pleasing fragrance, but disinfect it.  We'll keep your dispenser full and operating.
– Disinfectant
Disinfectant should be used on surfaces that are touched often by your employees—counter tops, door handles, restroom fixtures, chairs and tables, etc.  Some disinfectants require a separate cleaning first, some both clean and disinfect.  Check the dwell time of your disinfectant, which is the time required to set, or dwell, before wiping or rinsing, to achieve maximum cleanliness and killing of organisms.  Model's disinfectant is a cleaner disinfectant in one, and requires a 10 dwell time for maximum effectiveness, and is offered in a variety of pack types and delivery systems.
Mops and Towels
If we're talking about tools used to combat dirt and dust accumulation, mops and towels are necessary. The right mop can make dirty clean-up jobs quick and efficient. The following mops will be able to handle a variety of tough messes:
– Treated Dust Mops
– Heavy Anti-Microbial Duty Cotton Wet Mops
– Microfiber Wet Mops
Towels are also indispensable tools in the fight against dust and dirt accumulation. We offer a variety of towel options including:
– Cotton Towels
– Shop Towels, Printer Towels
– Kitchen Towels
– Terry Cloth Towels
– Microfiber Towels
– Bath Towels
– Fitness Towels
– Paper Towels
Invest in Professionally-Maintained Mats
If all dirt and dust did was dirty the floor, it wouldn't be such a problem. Unfortunately, that dirt and dust contains all kinds of bacteria, viruses, and allergens that can enter your business's air systems and can cause major problems for your customers and employees. Air filtration systems only catch so much, and sweeping and mopping can just stir dirt back up into the air.
High-quality mats can reduce the amount of dirt and dust entering your business. With properly-maintained matting catching upwards of 85% of all of that dust and dirt, there are few better ways to protect employees and customers.
Contact Model Coverall Service Today
With the right partner supplying your facility services and material needs, your business will stay clean and safe. From mats and cleaning chemicals to the cleaning supplies that make them work, Model Coverall Service has your needs covered.
Above all else, we're here to support your business. For more information, give us a call at 1(800) 968-6491, or contact us here.