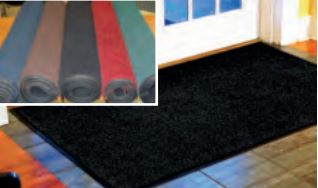 Looking for a way to improve the safety and appearance of your business? Appearance Mats are a great choice. 
With an effective combination of comfort, safety, and style, Appearance Mats from Model Coverall Service get the job done.
Safety
While there are many benefits to floor mats, the most important is increased safety. The last thing you want is for a customer or employee to slip and fall inside of your building. Not only is it incredibly dangerous, but you're liable for damages they may sustain. 
An Appearance Mat will not only keep your entrance area free of dirt and moisture, but it will also provide traction. Its NFSI-certified, 100% nitrile rubber backing ensures a good grip. 
Style
With an assortment of colors to choose from, Model Coverall Service has a variety of shades to compliment your business. With a choice of black, brown, green, navy, and red, there's an Appearance Mat that will work for your facility.
Quality
The only thing worse than no floor mat at all is a cheap one. When you get your Appearance Mats through Model Coverall Service, you don't have to worry about quality. Our mats can stand up to tough dirt, debris, and moisture. Best of all, you won't have to worry about quality suffering with overuse. 
Contact Model Coverall Service Today
Model takes care of the mats in your business so that you can focus on what matters most: making your business succeed. Contact us at 1(800) 968-6491. We look forward to helping your business today.