Mops & Towels
When a potential customer walks onto your premises, one of the first things they notice is how well you've maintained your business. It tells them about your company's character – how much you care about providing a safe and pleasant experience for your customers and clients. If your business, after all, cannot take the time to clean the dust and dirt up off the floor, how can a customer trust that what you are selling was given the time and care it needs to prosper as a quality product or service?
Maintaining a presentable business space requires more than just adding cleaning tasks to your employees' to-do lists though. To keep your business efficient and running smoothly, it's integral to acquire the right cleaning supply through a laundering program. This will relieve your worry about adding on an excessive amount of work to your employees and spending too much time running your own in-house laundry operation. At Model Coverall Service, we have a supply of mops and towels to help you scrub away that grease, banish that dust, and keep wet and dirty floors at bay. Our mop and towel supply includes: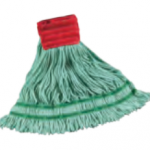 From microfiber mops to wet mops to framed and unframed treated dust mops, we have the cost-effective mop service that makes floor maintenance easy and convenient. Our mops are partially made from post-consumer materials and come in a variety of sizes, between 22" and 68".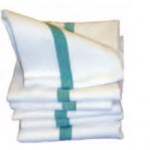 We have a variety of towels in our cotton towel supply. Our blue print towels and red shop towels are made of 100% cotton. We also offer kitchen towels and terry bar towels, grill towels and all-purpose towels. To help you distinguish between these items, our bar towels are offered in white and our grill towels are offered in blue.
Microfiber Towels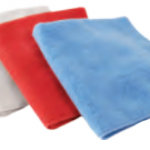 For extra scrubbing, moisture-wicking and quick drying power, we have a variety of microfiber towels available for different purposes. We have towels available for cleaning glass and mirrors, for general cleaning and for use in the kitchen. They are all available in 16"x16". We also offer microfiber bath towels at 22"x44" and premium microfiber bath towels at 27"x44".
For more information on our services, contact us at Model Coverall today at 1-800-968-6491.