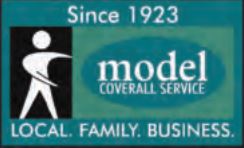 To promote your company image, cleanliness, and safety in your workplace, Model Coverall Service's logo mats are a great choice. A logo mat from Model will keep your employees and customers safe from slip and fall accidents. From the high-quality construction and materials to the high-definition of the design and color, our logo mats are protective, durable and stylish.
Logo Mats with High-Definition Design and Color
We have the equipment and professional knowledge to help you promote your company name and image. High-definition logo mats offer photographic quality. Standard resolution mats also come in dozens of colors and offer quality image definition.
Built-In Safety
Aside from looking good, our logo mats are also safe. Our mats act as a "24/7 janitor," keeping your floors dry and protecting against slip-and-fall accidents.
Dirt and Moisture Capturing and Holding
Just because these mats look good, it doesn't mean that they can't handle dirt. Our logo mats keep floors clean by holding onto moisture, rain, snow, salt, sand, grease, dirt, and debris. Keeping these off your floors save expensive labor time cleaning up. Research shows that dirt stopped at the door with proper matting saves thousands of dollars in reduced labor to clean floors and in extended floor life.
High-Quality Logo Mats Through Model Coverall Service
When choosing the company to make your logo mat, don't settle for second best. At Model Coverall Service, we have the attitude, care, technology, knowledge, and expertise to deliver. It's what we've been doing since 1923! For more information, give us a call today at 1(800) 968-6491. We look forward to working with you and making your job easier!