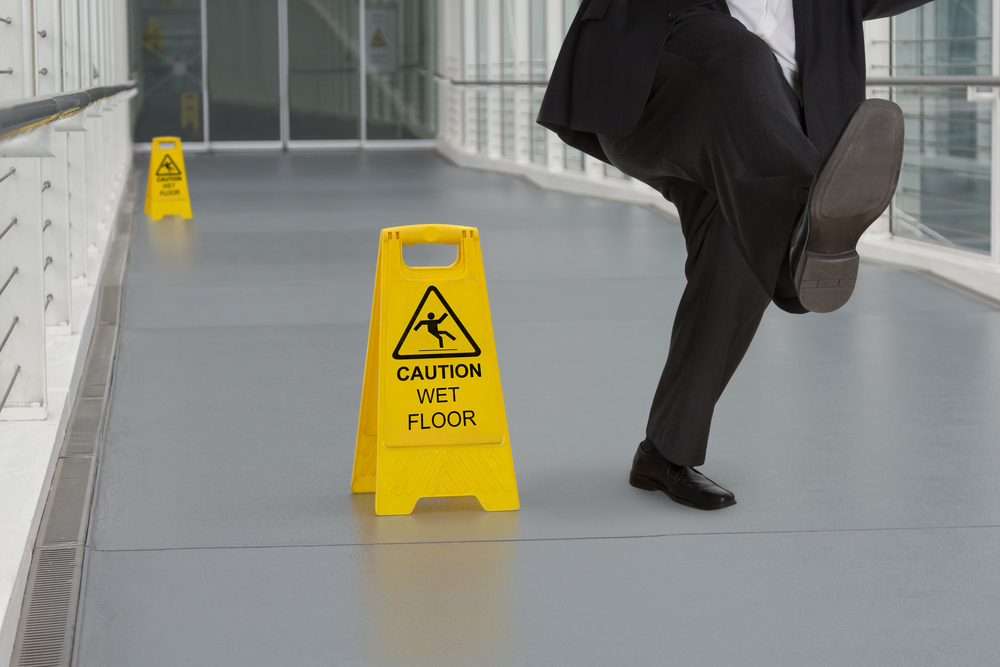 Preventing slip and fall accidents in your business is vital to its long-term success. The health and safety of your employees and customers depends on having slip and fall prevention measures in place. Implementing these measures is not only good for the people in your business, but also for your financial well-being. 
As with preventing any problem, preparation is key. Here are some ways to help prevent slip and fall accidents:
Mats
High-quality mats are the guardians of your business. With industrial mats and the knowledge and resources to keep them clean and functional, you can give your employees and customers peace of mind. However, knowing which mat is best suited to the job is important for optimal functioning. 
Appearance Mats
Look for 100% Nitrile rubber backed appearance mats for your business's entrances. The rubber backing keeps the mat in place, and the plush, absorbent fibers keep water and dirt from entering your business.
Executive Mats
With static dissipative properties and nylon piling, these tough executive mats are ready to keep your business clean and safe from static buildup. Curved corners give executive mats a more professional, less industrial appearance. Exclusive color patterns also give executive mats a fresh, upgraded, front-office appearance for an improved image.
Scraper Mats
Few mats are more effective at keeping foreign materials out of your business than scraper mats. Composed of sturdy rubber and hearty, raised cells, scraper mats trap and lock water, snow, and salt before it can become a slip and fall hazard. 
Safety Slogan Mats
For areas of your business prone to accidents, a little warning can go a long way. Few products offer safety and wisdom in one helpful package, but safety slogan mats are the exception. 
Floor Care 
Floors can be dangerous if they aren't properly maintained. Water, dirt, sludge, and salt damage floors and increase the risk of slip and fall accidents. It's important to have the right tools on hand to clean messes quickly and efficiently. 
High-Quality Mops
When dirt or other invasive materials find their way onto your floor, a top-notch mop provider can help get the job done. Microfiber mops, wet mops, and dust mops are great tools to have at your disposal. Dust mops from us are chemically treated to better pick up and hold dust and dirt.
Proper floor care saves years of floor life and thousands of dollars in floor maintenance and replacement costs. Working with a quality floor care provider like Model Coverall Service will make acquiring and maintaining your mat and mop supply easy and convenient. 
Model Coverall Service is Here to Help Your Business Today!
There's no substitute for quality preparation. When you get mats and mops from Model Coverall Service, you get top-notch quality materials and world-class customer service to go with it. For more information, give us a call at 1(800) 968-6491 or contact us here.