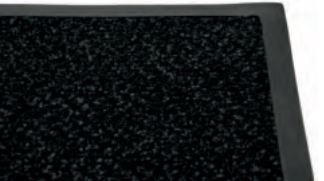 For mats that can protect your business from rugged outdoor environments while looking great, Model Coverall Service's Ulti-Mats are a solid option. They are the "Ultimate Mat". Our Ulti-Mats are made with high-quality materials and are engineered for effectiveness in a variety of environments.
Ulti-Mats by Model Coverall Service will do what you'd expect from a high-quality Ulti-Mat. Here are just some of the benefits:
Static Dissipation
In industrial environments, there are many hazards that make working in them more dangerous than other work environments. Static dissipation is once. Just touching the wrong thing at the wrong time can cause electrical equipment to short, and can cause sparks and ignite dangerous fires and even explosions. Ulti-Mats by Model Coverall Service provide your employees the protection they need against static buildup.
Water Retention
Water is hard on floors and is a serious danger in the workplace. Preventing water from entering your business and reaching its floors is necessary to ensure a safe work environment.
Our Ulti-Mats are built to retain water and help keep it contained. Designed with a high rubber edge to retain water in the mat and keep it off your floors, our Ulti-Mats will do the job and look good doing it.
Soil and Moisture Retention
Dirt and dust from the outside contain bacteria, viruses, and allergens. Keeping it out of your business is vital to the health of your employees. With rugged brushing ability, Ulti-Mats from Model Coverall Service stop dirt, dust and moisture at your door.
Ulti-Mats by Model Coverall Service Get the Job Done
When you get your mats from Model Coverall Service, you're not only getting high-quality mats, but professional maintenance as well. No matter how good your mats are at purchase, they won't stay that way without regular, professional maintenance. Model Coverall Service is a provider that you can trust.
Above all else, we are here to help and support your business. For more information, give us a call at 1(800) 968-6491 or contact us here.