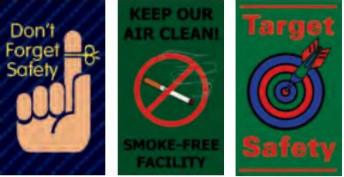 Make your safety warnings bolder and better with the right safety slogan mats from Model Coverall Service. These mats offer a strong combination of quality look, superior durability, and great visibility. 
Safety Slogan Mats for Your Business
Model's safety slogan mats make great multi-functional additions to your floor mat arsenal. These floor mats are ideal for a variety of businesses. From industrial worksites to the office, there's always room for safety.  With Model's reliability and dependable quality, you can always expect high-quality results:
High-Quality Graphics
Model's mats feature bright colors and high-quality graphics for effective warning that is difficult to miss. Whether you're looking to slow foot traffic down or ensure a non-smoking environment, Model has the mats to help. 
Dust-Control for Floors
With the functionality of a high-quality, well-maintained mat, safety slogan mats help maintain clean floors and an informed workforce. 
Heavy-Duty Capacity
Heavy foot traffic has nothing on these heavy-duty safety slogan mats. They are made of durable durable materials that can withstand both the job' demands and thorough cleanings.
Professional Mat Maintenance
Model Coverall Service backs up our products' excellent quality with professional maintenance services. Our thorough, efficient cleaning methods provide a superb clean that retains the graphics and material integrity of the floor mats.
Quality That Delivers
Model's commercial floor mat services get results. With nearly 100 years of experience providing solutions for businesses, we understand what it means to consistently deliver. It takes quality materials, reliable service, and customer service excellence. 
Employee Protection Beyond Safety Slogan Mats
Model Coverall supplies high quality mats designed to keep employees safe, but also offers a way to help. If employees do get injured, you need to have the supplies and training available to help them. Model Coverall's first aid products and training programs will help with just that. From high quality first aid materials to comprehensive first aid training assistance, Model Coverall has exactly what you need. After all, when you're ready for anything, safety pays. 
Model Coverall Service is Ready to Improve Your Business's Safety
Get in touch with us today to learn more about our mat and other services. Call (800) 968-6491 to speak with any of our friendly representatives, or contact us through our online portal.